I am so excited because today I am launching a weekly meme with the help of one of my great friends!! So here is the info about it!!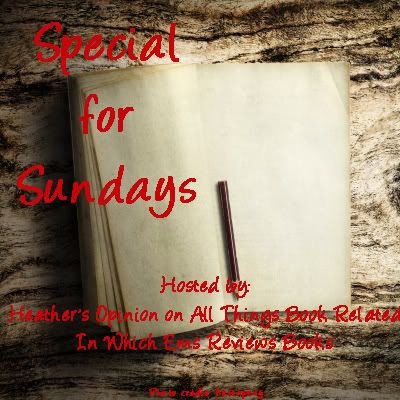 Special for Sundays is an original feature, created by Heather of 'Heather's Opinion on All Things Book Related' and Ems of '
In which Ems Reviews Books'
. We'll rotate each week through various subjects, as follows:
1st Sunday: One of your Favorite Books and why is it so special to you
2nd Sunday: Two books that everyone must read and why
3rd Sunday: One of your Favorite Authors and why you pick their books up again and again
4th Sunday: A book on your TBR list, why you picked it, and when do you hope to read it
5th Sunday (on the rare occassions): Random book we have read and a quickie review.
We hope you'll join us for this fun feature!
As this is the 3rd Sunday of the month, it is Favorite Author week! So for me I am going to go back to my very first favorite author, for the very first Special For Sundays!
~~~~Laura Ingalls Wilder~~~~
Just a brief bit about her from Wikipedia: Laura Elizabeth Ingalls Wilder

(February 7, 1867 – February 10, 1957) was an American author who wrote the

Little House series of books based on her childhood in a pioneer

family.

[1]

Laura's daughter, Rose, inspired Laura to write her books.
Ok so Wilder is probably my first ever favorite writer. I was introduced to her series in school by a chapter out of The Long Winter, I was instantly captivated. I can't not recall what made me want to read it...but I took to it right away. I had to have the books, I checked them out in the library and began reading the series from the beginning. I even saved up money to buy the series in paperback as a child. I consider her as an author because looking back I didn't really pay attention to authors, I was more interested in books. She is the first author I could tell you what her books were. I honestly read those books many times over!
Now as an adult I want to do a re-read(will have to find my books in storage). The reason is because the story of her life(yes I realize that it is embellished some) and the time period is always interesting to me. It is interesting to see how people live during that time, seeing the towns build up, and even the relationships that is formed throughout.
Another reason that I will do a re-read is due to the story telling. Wilder weaves a wonderful story that just sucks you in. I am always implanting myself into the stories and with her writing, it was easy to do. Honestly I can remember times standing outside when it was windy picturing myself in that time period.
So who is one of your favorite authors?