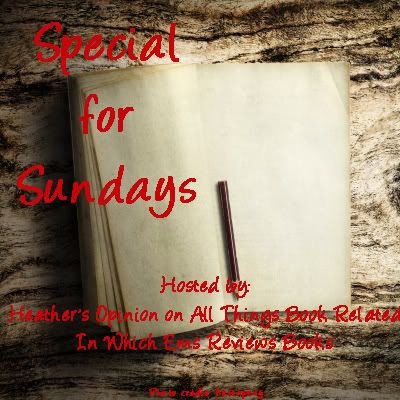 Special for Sundays is an original feature, created by Heather of 'Heather's Opinion on All Things Book Related' and Ems of '
In which Ems Reviews Books'
. We'll rotate each week through various subjects, as follows:
1st Sunday: One of your Favorite Books and why is it so special to you
2nd Sunday: Two books that everyone must read and why
3rd Sunday: One of your Favorite Authors and why you pick their books up again and again
4th Sunday: A book on your TBR list, why you picked it, and when do you hope to read it
5th Sunday (on the rare occassions): Random book we have read and a quickie review.
We hope you'll join us for this fun feature!
So with this being the 5th Sunday of the month we are doing a book we have read previously and a quickie review. Hmmmm considering right now reading has been slow, I went back to my 2011 read list and seen one book that I haven't reviewed, but that was because I was going to do the series(and still will). Honestly you will probably hear about this book a lot as it is one of my favorites...and for those I am close to you already know it and know what I have to say about it.
So it is
Poison Study
by Maria V. Snyder! I always have this book on my TBR pile as it is just that good! Yelena, the female lead is not overly whiny, and seems so realistic. She has so many facets to her life that is not shown right away but little by little(and all throughout the series). After all at the start of the book you know she is in jail for killing a man, but you don't really know the motive until later. She also makes mistakes and isn't perfect, but she learns from them and moves on. OH and let's not forget Valek, Ari, or Janco! These men are definitely swoon worthy and just great characters to read about!
The plot in of itself isn't exactly boring either! It moves at a good pace and has a little of everything...action, mystery, romance, magic. I can really go on and on about this book, but since this is supposed to be quick I will stop and the final rating is without a doubt is my LOVED IT rating!!