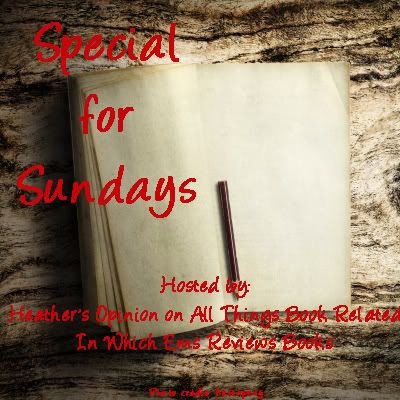 Special for Sundays is an original feature, created by Heather of 'Heather's Opinion on All Things Book Related' and Ems of '
In which Ems Reviews Books'
. We'll rotate each week through various subjects, as follows:
1st Sunday: One of your Favorite Books and why is it so special to you
2nd Sunday: Two books that everyone must read and why
3rd Sunday: One of your Favorite Authors and why you pick their books up again and again
4th Sunday: A book on your TBR list, why you picked it, and when do you hope to read it
5th Sunday (on the rare occassions): Random book we have read and a quickie review.
We hope you'll join us for this fun feature!
Welcome!!! Ok this one is difficult because I could go on about last week's Special for Sunday...but I won't over-do it right now :-p So I am picking:
Gregory MaGuire's
Wicked: The Life and Times of the Wikced Witch of the West.

This was a book that I had picked up to read, I had heard good things about it. I will say some like it and some don't. However I totally enjoyed it. It totally took the original Wizard of Oz and turned it upside down! After all do you really think you could feel sorry for the Wicked Witch? I was surprised by how interesting the series became with how all the character's were not exactly how I had figured out they would be. As we follow the Wicked Witch from birth to death, you can certainly see how the events turned her "wicked". It also shows that there is always more to a story than just one side.

I know not everyone likes this book, but I love the twist on the original so it makes it a definite favorite of mine.