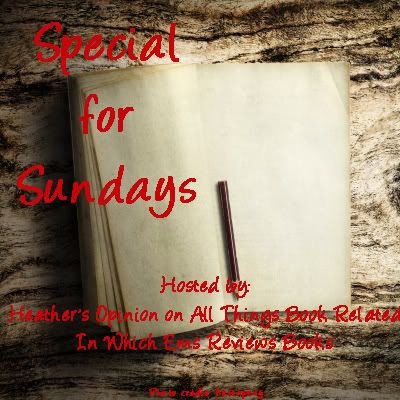 Special for Sundays is an original feature, created by Heather of 'Heather's Opinion on All Things Book Related' and Ems of '
In which Ems Reviews Books'
. We'll rotate each week through various subjects, as follows:
1st Sunday: One of your Favorite Books and why is it so special to you
2nd Sunday: Two books that everyone must read and why
3rd Sunday: One of your Favorite Authors and why you pick their books up again and again
4th Sunday: A book on your TBR list, why you picked it, and when do you hope to read it
5th Sunday (on the rare occassions): Random book we have read and a quickie review.
We hope you'll join us for this fun feature!
Yay thanks for coming back to read! So this week we are discussing 2 books that everyone must read and why...
I used some very emotional and thought provoking books this time.
The first is My Sister's Keeper by Jodi Picoult. This book intrigued me due to my medical field background; one sister, Kate, has leukemia and the other, Anna, is considered a designer baby to help keep the other alive. The story is told through many different points of view(mother, Kate, Anna, a lawyer, father), and each point of view has a different type of font. The story is very complex as Anna no longer wants to be used for Kate's treatments, so she sues for medical emancipation. As the story continues there area few twists that can take you by surprise all the way to the end. I must say that while it did make me cry, I really enjoyed reading it.
The second book is Night Road By Kristin Hannah. This book is another powerful and emotional book. I had actually won this off of Goodreads. It caught my attention and after reading it I was instantly hooked. This one deals with the loss of a young adult due to drinking and driving...I had placed a review on Goodreads so I will post it here as my reasoning to why it should be read:
...this book is told from different perspectives so for some that might be a downer...however with this book it adds to the emotional issues by seeing what the other characters were thinking. Each person deals with the loss, their idenity, and forgiveness in different ways which gives the book more depth. I felt very connected to the story and will say at the end it had me in tears at different points. Yes I was that involved in this book! However after being away from the book for a few days, the ending is a bit too perfect...but it still doesn't change my thoughts on the book at all! I feel that Kristin Hannah did a wonderful job in writing the book and making the characters come alive so that I could laugh, cry, and want with the characters!
So what are your two books that everyone must read?