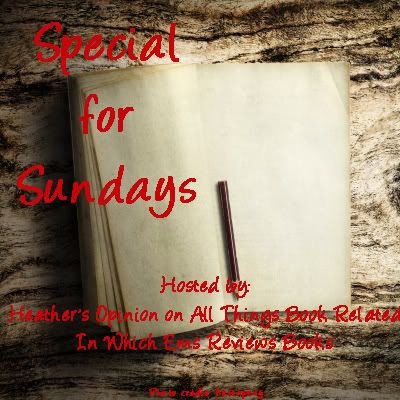 Special for Sundays is an original feature, created by Heather of 'Heather's Opinion on All Things Book Related' and Ems of '
In which Ems Reviews Books'
. We'll rotate each week through various subjects, as follows:
1st Sunday: One of your Favorite Books and why is it so special to you
2nd Sunday: Two books that everyone must read and why
3rd Sunday: One of your Favorite Authors and why you pick their books up again and again
4th Sunday: A book on your TBR list, why you picked it, and when do you hope to read it
5th Sunday (on the rare occassions): Random book we have read and a quickie review.
We hope you'll join us for this fun feature!
Ok so I totally missed last week's posting due to just plain old running out of time!! So I am jumping back in and starting with this weeks. So it is a book on my TBR List and why I picked it. Well I guess I will go with Touch of Power by Maria V. Snyder!
I got to read the first chapter and was totally captivated, plus it is by MVS!! I have enjoyed every single one of her books so far, which means that I can't help but want to read this one too! I am not sure when I will get to it, but I want it to be as soon as possible!!