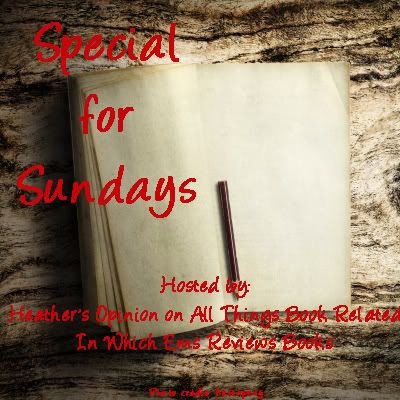 Special for Sundays is an original feature, created by Heather of 'Heather's Opinion on All Things Book Related' and Ems of '
In which Ems Reviews Books'
. We'll rotate each week through various subjects, as follows:
1st Sunday: One of your Favorite Books and why is it so special to you
2nd Sunday: Two books that everyone must read and why
3rd Sunday: One of your Favorite Authors and why you pick their books up again and again
4th Sunday: A book on your TBR list, why you picked it, and when do you hope to read it
5th Sunday (on the rare occassions): Random book we have read and a quickie review.
We hope you'll join us for this fun feature!
Welcome Back!! This week it is Favorite Authors!

Another author that I really enjoy reading is Wally Lamb. I was first introduced to him through She's Come Undone. This was a book given to me by my mom, then I read I Know This Much Is True. With both of these books the way the story is told is powerful. It isn't nice and happy books all the way through, but the main characters come out with a new outlook or view of the world. The characters grow and develop as well as act like any real human being. The story lines can be a bit emotional and may not be suitable for everyone, but they added to the story and didn't detract from them at all.

I do have one of his book still on my TBR mountain, which is The Hour I First Believe. This one deals with school shootings, which is a bit sensitive for me...however I do own it and do plan to read it when I work up the nerve!

So what author would you choose this month?