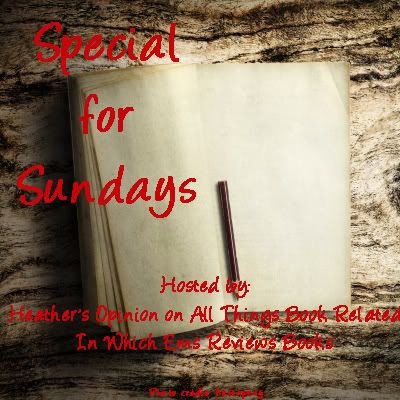 Special for Sundays is an original feature, created by Heather of 'Heather's Opinion on All Things Book Related' and Ems of '
In which Ems Reviews Books'
. We'll rotate each week through various subjects, as follows:
1st Sunday: One of your Favorite Books and why is it so special to you
2nd Sunday: Two books that everyone must read and why
3rd Sunday: One of your Favorite Authors and why you pick their books up again and again
4th Sunday: A book on your TBR list, why you picked it, and when do you hope to read it
5th Sunday (on the rare occassions): Random book we have read and a quickie review.
We hope you'll join us for this fun feature!
Here we are again choosing a favorite book....hmmm let me see:
I think it is time I talk about Harry Potter! I honestly must say that I didn't get into it until about the time Half-Blood Prince came out, this is even after watching the first movie in the theater when it came out. My sister had liked it from the beginning but at the time I just wasn't interested and thought of it as childish(yeah not my opinion now! ) When I finally started working at my current job, a lady I work with said that I really needed to read them, that once I get past the first 3 books that I would like them. So I finally gave them a chance and she was right!! I totally enjoyed them all and each time my favorite book out of the series changes...but by the time I get to the end certain reactions still hold even though I know what is going to happen, it is that powerful and I get that caught up in them.

The books do show that while good does triumph evil, there is always causalities even to the good side. Which is nice to have that realistic aspect to it, among the other lessons that we see in all the books. These books are a fun escape for me and has lead me in many different places in life. I have met some great friends due to these books, as well as have a bond with my sister and memories of the last midnight book release. So Thanks to J.K. Rowling for creating such a wonderful series that so many people, myself included, can enjoy and dream about hearing those 3 little words even into adulthood!!