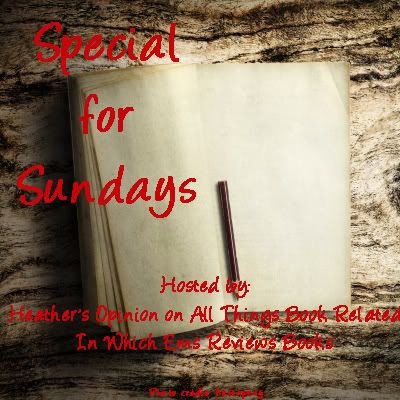 Special for Sundays is an original feature, created by Heather of 'Heather's Opinion on All Things Book Related' and Ems of '
In which Ems Reviews Books'
. We'll rotate each week through various subjects, as follows:
1st Sunday: One of your Favorite Books and why is it so special to you
2nd Sunday: Two books that everyone must read and why
3rd Sunday: One of your Favorite Authors and why you pick their books up again and again
4th Sunday: A book on your TBR list, why you picked it, and when do you hope to read it
5th Sunday (on the rare occassions): Random book we have read and a quickie review.
We hope you'll join us for this fun feature!
Welcome Back!! So what 2 books do I think everyone should read this time? Well both books are the 1st in a series, and I recommend the rest of the series as well! Briggs.
So first up is Moon Called by Patricia Briggs, the first in the Mercy Thompson series. This is a paranormal book that has werewolves, shapeshifters, vampires(not your sparkly kind though), and fae. I enjoyed it and when I first read it I was just venturing more into paranormal or urban fantasy books. It captivated me from the start and I found that with some of the other books I had devoured them in a day. I totally recommend it to others!
The second book is Eragon by Christopher Paolini, the first in the Inheritance series.
I also enjoyed this fantasy work that I have read and even pre-ordered the other books in the series when they came out. It is an adventurous series, with dragons and elves! I haven't read the final book, but it is another one that I can't wait to read as I have to find out how it ends.
So there are my two books what are yours?