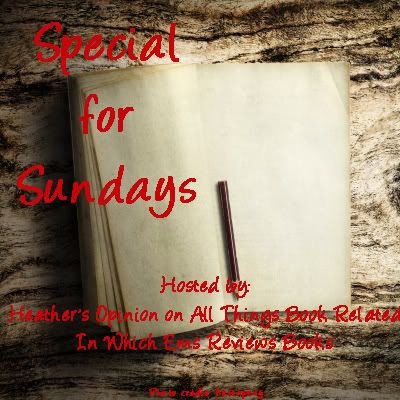 Special for Sundays is an original feature, created by Heather of 'Heather's Opinion on All Things Book Related' and Ems of '
In which Ems Reviews Books'
. We'll rotate each week through various subjects, as follows:
1st Sunday: One of your Favorite Books and why is it so special to you
2nd Sunday: Two books that everyone must read and why
3rd Sunday: One of your Favorite Authors and why you pick their books up again and again
4th Sunday: A book on your TBR list, why you picked it, and when do you hope to read it
5th Sunday (on the rare occassions): Random book we have read and a quickie review.
We hope you'll join us for this fun feature!
Thanks for stopping in!!! Wow another month with a 5th Sunday. So this week I am choosing:
This is one of the few books that I have read by Stephen King. I am not a big horror fan, and that is how I had perceived King's books. My mom had recommended this one, and while it isn't horror it is intense at points. I did make it through and really enjoyed the book. I must say that the way King weaved this story is amazing! The characters are great, I either loved them or hated them depending on their actions. I also have to say that the story itself is so very different from some of the story lines I have read thus far, which also makes it a great read! Since it has to do with death row it is emotional. When I went to see it in the theater I was crying well ahead of what was going on, just because I knew what was coming!
This is one book that I have and will read again and again, because it is just that good!