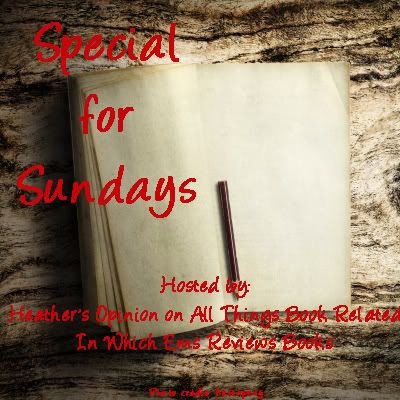 Special for Sundays is an original feature, created by Heather of 'Heather's Opinion on All Things Book Related' and Ems of '
In which Ems Reviews Books'
. We'll rotate each week through various subjects, as follows:
1st Sunday: One of your Favorite Books and why is it so special to you
2nd Sunday: Two books that everyone must read and why
3rd Sunday: One of your Favorite Authors and why you pick their books up again and again
4th Sunday: A book on your TBR list, why you picked it, and when do you hope to read it
5th Sunday (on the rare occassions): Random book we have read and a quickie review.
We hope you'll join us for this fun feature!
Thanks for stopping in!!! So another favorite book...honestly this is getting more difficult as I try to come up with different books and not gush over ones that I have posted about before. But I am being dragged back to probably my most favorite book which I did a quick review
HERE
. So I apologize but I feel that this book needed better review!
This is my go to book, when I am trying to find something good to read I pick this one up. Why does it draw me in time and again, even though I know what happens? Well I find it just like a classic, it is just that good.
I love the characters!
Yelena isn't perfect, but she is a character young women can look up to. She stands up for herself and takes steps to protect herself. She also is smart and uses her intelligence to help her out.
Valek is quite interesting and has more depth than what is at first revealed. Ari and Janco are just a great duo, and become favorites too! There are also some characters that I just want Karma to run over a bus, back up and run over again. Yeah no love there, but having characters I don't like speaks volumes to the Maria's writing in my opinion.
The plot is different from some of the other books I had read, even recently. The pace is moves pretty well. I don't find any points that drag, and while I have read it several times I haven't lost interest in it yet.
I am so glad I had picked this book up, and glad to continue to read it over and over again!