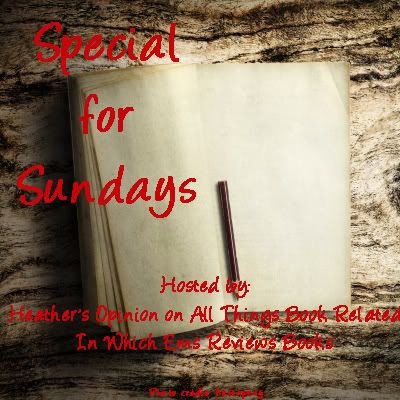 Special for Sundays is an original feature, created by Heather of 'Heather's Opinion on All Things Book Related' and Ems of 'In which Ems Reviews Books'. We'll rotate each week through various subjects, as follows:
1st Sunday: One of your Favorite Books and why is it so special to you
2nd Sunday: Two books that everyone must read and why
3rd Sunday: One of your Favorite Authors and why you pick their books up again and again
4th Sunday: A book on your TBR list, why you picked it, and when do you hope to read it
5th Sunday (on the rare occassions): Random book we have read and a quickie review.
We hope you'll join us for this fun feature!
Welcome Back!!! It is time for Two books everyone must read...I think I am going to go with:
From Goodreads(image and blurb)
The Chronicles of Narnia, by C.S. Lewis, is one of the very few sets of books that should be read three times: in childhood, early adulthood, and late in life. In brief, four children travel repeatedly to a world in which they are far more than mere children and everything is far more than it seems. Richly told, populated with fascinating characters, perfectly realized in detail of world and pacing of plot, the story is infused throughout with the timeless issues of good and evil, faith and hope. This edition includes all seven volumes.
I think the world C.S. Lewis created is phenomenal!! I didn't read this as a child but as an adult and loved it then. I highly recommend it to anyone! Another book due for a re-read!
>From Goodreads(image and blurb):
Armed with only his wits and his cunning, one man recklessly defies the French revolutionaries and rescues scores of innocent men, women, and children from the deadly guillotine. His friends and foes know him only as the Scarlet Pimpernel. But the ruthless French agent Chauvelin is sworn to discover his identity and to hunt him down.
I had read this in high school and have read it several times since. It is quite a story and I really need to read it again sometime!