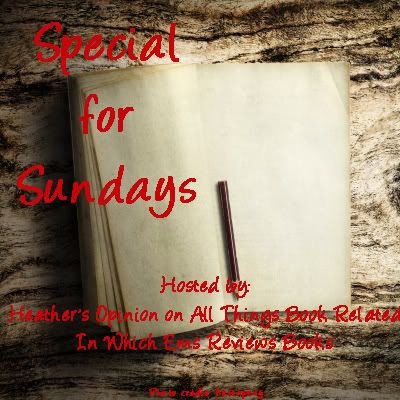 Special for Sundays is an original feature, created by Heather of 'Heather's Opinion on All Things Book Related' and Ems of 'In which Ems Reviews Books'. We'll rotate each week through various subjects, as follows:
1st Sunday: One of your Favorite Books and why is it so special to you
2nd Sunday: Two books that everyone must read and why
3rd Sunday: One of your Favorite Authors and why you pick their books up again and again
4th Sunday: A book on your TBR list, why you picked it, and when do you hope to read it
5th Sunday (on the rare occassions): Random book we have read and a quickie review.
We hope you'll join us for this fun feature!
Welcome Back!!! So this week we are looking at books on our TBR mountain.
From Goodreads(image and blurb):
ONE FINE MESS
Welcome to Trenton, New Jersey, home to wiseguys, average Joes, and Stephanie Plum, who sports a big attitude and even bigger money problems (since losing her job as a lingerie buyer for a department store). Stephanie needs cash—fast—but times are tough, and soon she's forced to turn to the last resort of the truly desperate: family...
ONE FALSE MOVE
Stephanie lands a gig at her sleazy cousin Vinnie's bail bonding company. She's got no experience. But that doesn't matter. Neither does the fact that the bail jumper in question is local vice cop Joe Morelli. From the time he first looked up her dress to the time he first got into her pants, to the time Steph hit him with her father's Buick, M-o-r-e-l-l-i has spelled t-r-o-u-b-l-e. And now the hot guy is in hot water—wanted for murder...
ONE FOR THE MONEY
Abject poverty is a great motivator for learning new skills, but being trained in the school of hard knocks by people like psycho prizefighter Benito Ramirez isn't. Still, if Stephanie can nab Morelli in a week, she'll make a cool ten grand. All she has to do is become an expert bounty hunter overnight—and keep herself from getting killed before she gets her man
So I picked this up because the movie looked really good(I still have yet to see it, but I think it looks funny). Plus my mom has read it and told me I should read it. I take her suggestions seriously, so I have it in paperback sitting on my end table. I am not sure when I will get to it quite yet, but I do plan on getting to it at some point!