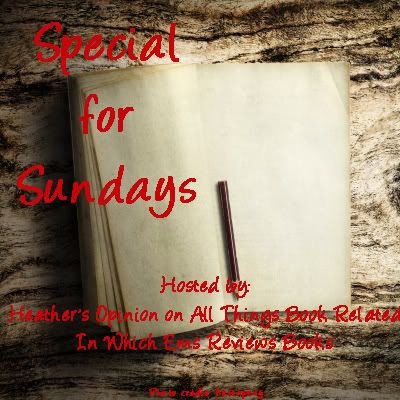 Special for Sundays is an original feature, created by Heather of 'Heather's Opinion on All Things Book Related' and Ems of 'In which Ems Reviews Books'. We'll rotate each week through various subjects, as follows:
1st Sunday: One of your Favorite Books and why is it so special to you
2nd Sunday: Two books that everyone must read and why
3rd Sunday: One of your Favorite Authors and why you pick their books up again and again
4th Sunday: A book on your TBR list, why you picked it, and when do you hope to read it
5th Sunday (on the rare occasions): Random book we have read and a quickie review.
We hope you'll join us for this fun feature!
Welcome back! This week we are talking about favorite authors and this week I am choosing:
From Wikipedia(image and short bio):
George R. R. Martin is an American screenwriter and author of fantasy, horror, and science fiction. He is best known for A Song of Ice and Fire, his bestselling series of epic fantasy novels that HBO adapted for their dramatic pay-cable series Game of Thrones. Martin was selected by Time magazine as one of the "2011 Time 100", a list of the "most influential people in the world."
I had seen previews for HBO's Game of Thrones, and loved it. I had to immediately pick up the book and if you haven't noticed I love them too! When I finish each book I want to immediately pick up the next book to see what happens next! The emotions that Martin runs his readers through in just one book is pretty amazing! I do hope the rest of the series comes out soon as the anticipation and wondering what is going to happen is going to be killer!