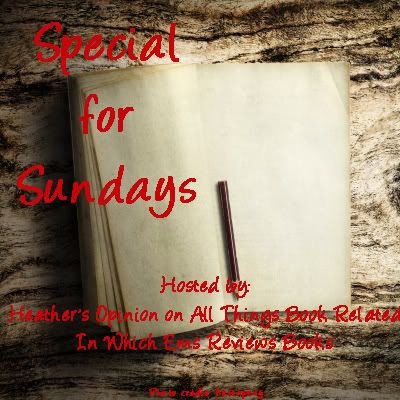 Special for Sundays is an original feature, created by Heather of 'Heather's Opinion on All Things Book Related' and Ems of 'In which Ems Reviews Books'. We'll rotate each week through various subjects, as follows:
1st Sunday: One of your Favorite Books and why is it so special to you
2nd Sunday: Two books that everyone must read and why
3rd Sunday: One of your Favorite Authors and why you pick their books up again and again
4th Sunday: A book on your TBR list, why you picked it, and when do you hope to read it
5th Sunday (on the rare occasions): Random book we have read and a quickie review.
We hope you'll join us for this fun feature!
Welcome back! We are looking at 2 books everyone must read and this week I decided to allow my DBF, K.E.(Thanks for filling in!) to discuss his top 2 books, both of these are on my TBR mountain.
HI I am K.E. and love reading off my Kindle. Before the Kindle I mostly read paperbacks from Tom Clancy and Stephen King, although I would read some classics like H. G. Wells and Robert Louis Stephenson. I am a gadget geek so when I got my Kindle, my reading went to a whole new level. So my top 2 books(I am a visual person so movies are briefly discussed) are actually series which both are dystopian genres in no particular order:
From Amazon.com
1) The Hunger Games: It is a gripping story! It is definitely a page turner, which I read the series in one week! I have never done that in my life! The evolution of the story held my attention! It makes me upset that it is taking so long to develop the second movie!
From Amazon.com
2) The Dark Tower Series: It combines a lot of things I am interested in: westerns, fantasy, and dystopian worlds. It is Stephen Kings magnum opus! There is a lot I can say, but I don't want to ruin it but there are certain chances King took with the story that were pretty neat. This world that he created is the key stone of many books he has written. I am waiting for the movies to come out, although I am having difficulties with the rumors of Roland. I think that Clint Eastwood IS Roland hands down! However I do realize he is too old, so I guess we will have to wait and see if the movies ever come out and who the cast will be. However I have been wrong about who the best actor is for parts(I didn't think Daniel Craig would be a good James Bond, but he is one of my favorite James Bond).