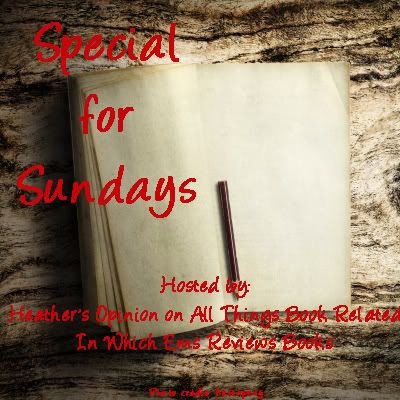 Special for Sundays is an original feature, created by Heather of 'Heather's Opinion on All Things Book Related' and Ems of 'In which Ems Reviews Books'. We'll rotate each week through various subjects, as follows:
1st Sunday: One of your Favorite Books and why is it so special to you
2nd Sunday: Two books that everyone must read and why
3rd Sunday: One of your Favorite Authors and why you pick their books up again and again
4th Sunday: A book on your TBR list, why you picked it, and when do you hope to read it
5th Sunday (on the rare occasions): Random book we have read and a quickie review.
We hope you'll join us for this fun feature!
Welcome back! I have been quite busy but here is last week's and this week's post:
So for the last Sunday in August:
I had won a gently used ARC from In Which Em's Reviews books. I have heard great things about it and can't wait to read it!
First Sunday in September:
One of my favorite books is:
I had read this in high school and enjoyed it. It was a bit different from my normal reading then, and while it was for a book report I didn't get bored with it. I thought over all Buck had written it wonderfully and later I had bought it to re-read. While I am trying to knock out my some of my TBR mountain I do plan on re-reading this one day!