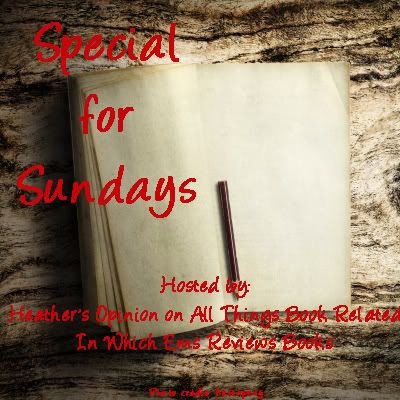 Special for Sundays is an original feature, created by Heather of 'Heather's Opinion on All Things Book Related' and Ems of 'In which Ems Reviews Books'. We'll rotate each week through various subjects, as follows:
1st Sunday: One of your Favorite Books and why is it so special to you
2nd Sunday: Two books that everyone must read and why
3rd Sunday: One of your Favorite Authors and why you pick their books up again and again
4th Sunday: A book on your TBR list, why you picked it, and when do you hope to read it
5th Sunday (on the rare occasions): Random book we have read and a quickie review.
We hope you'll join us for this fun feature!
Welcome Back!! Ok so I know I have already raved about this series over and over again, but I am going to do it again because I am so excited about news I found out this past week.....
The series is going to have 3 more books added to it!! So yes I am *squeeing* and so excited for 2014(possibly!!)....so if you haven't figured it out yet, I am talking about The Study Series by Maria V. Snyder.
From Amazon.com
I honestly don't know what else to rave about this series, it is just something you need to pick up and read...I know I will be reading this several times before the new series comes out!