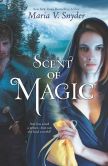 From Barnes and Noble:
As the last Healer in the Fifteen Realms, Avry of Kazan is in a unique position: in the minds of friends and foes alike, she no longer exists. Despite her need to prevent the megalomaniacal King Tohon from winning control of the Realms, Avry is also determined to find her sister and repair their estrangement. And she must do it alone, as Kerrick, her partner and sole confidant, returns to Alga to summon his country into battle.
Though she should be in hiding, Avry will do whatever she can to support Tohon's opponents. Including infiltrating a holy army, evading magic sniffers, teaching forest skills to soldiers and figuring out how to stop Tohon's most horrible creations yet: an army of the walking dead—human and animal alike and nearly impossible to defeat.
War is coming and Avry is alone. Unless she figures out how to do the impossible...…again.
Ok as you know I just love Snyder's work and well she had a contest in which she gave away copies of Scent of Magic, of course I couldn't pass up the opportunity and entered. Well I won, and my copy was also signed!!! I was and still am excited by it! Of course this was immediately moved up on my TBR mountain and honestly I do not regret it! I loved this book as much as her other books!
This is the second book in her Healer series and let me just say that the story line has several twists and turns that keep you enthralled with the book. I loved how we are able to see Kerrick's point of view and the way the book alternates between Avry and Kerrick's storyline(It is very clear as Kerrick's chapters always say Kerrick, and Avry's are the chapters).
There is one thing that drove me crazy, at the end of each chapter there was a cliff hanger! Each time when I arrived at the end of the chapter and had to stop reading it, I was screaming "NOOOOOOOOOOOOOOOOOOO!!!!!!!!!!!!" on the inside because I had to know what happened next...then add in that the next chapter was the other narrator, the suspense to know what is happening was maddening!!! Not in a bad way but in the way of "I have got to find more time to read so that I don't have to wait! Oh but now I have to wait for
Touch of Death
to come out! UGGGHHHHH!!!!
So if you haven't yet read the Healer series or any of Maria's books for that matter my only suggestion is to DROP EVERYTHING NOW AND GO GET ONE OF HER BOOKS!!!