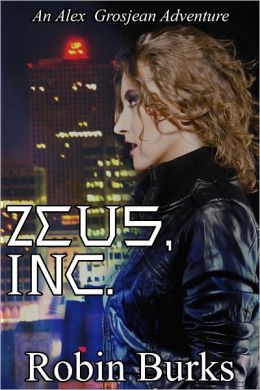 from bn.com
From Burks' request:
50 years ago, Zeus, Inc., and its CEO, the mysterious Joseph Brentwood, saved the world from a major energy crisis by discovering a new unlimited energy resource. Now, in 2069, Mr. Brentwood has gone missing and private eye Alex Grosjean has been hired to find him by his daughter (and Alex's best friend), Aleisha.
Black-outs begin to occur all over the world and somehow Alex believes it's tied to Mr. Brentwood's disappearance. Her search leads her through her own murky past and into the fantastical depths of Hell itself, where she discovers that Mr. Brentwood is not who or what he seems to be.
With the help of an otherworldly man named Pip, Alex must save both Mr. Brentwood and the world. But will she be able to face her own guilty past in order to do it?
Robin Burks had contacted me to review her book
Zeus, Inc.
I had agreed since I have been enjoying mysteries more and more. Plus seeing the title my mind went to thinking about Greek mythology. When I was getting ready to read the book, I did re-read the synopsis and felt that didn't really deal with the Greek mythology. But still I was intrigued.
This is a pretty interesting read, it is short but a lot happens in it. It takes place in the future, and yet there are some things from day making an appearance. I didn't feel lost in the futuristic feel of the book, and honestly was quite happy to see that the Greek Gods are involved. The pace was quick, and it kept me interested.
Alex is a character that I can relate to. She has a sarcastic side and quick temper, but also is down to earth. I love how when certain things happens to her favor she makes mental notes on things to do when she is done with the case. She also has a certain amount of moxy(no other word really fits) for her to go into Hades and Mt. Olympus as a mere mortal. She definitely is not a weak character and able to stand her own among the Greek Gods and Goddesses.
The only thing I can say is that towards the end the language did get to be a bit noticeable. Now I will say that if I was in a similar position I think my mouth wouldn't be clean and would probably be dropping certain words left and right. I know I would not be thinking as clearly as Alex was able to even if she wasn't ready to handle what was going on so I was able to let that part go for myself.
Overall I really enjoyed the book, and while it left on a cliff hanger(uggggh the drive me batty...in a good way though)...I do look forward to see what else Burks comes out with!