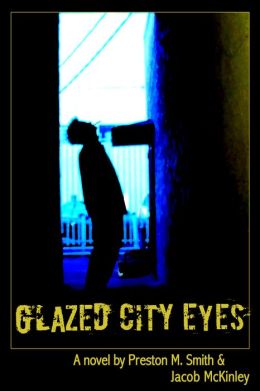 From
BN.com
:
Jackson McCormack is entering his thirties and his life is not what he hoped it would be. Despite his newly acquired girlfriend Terra, his fledgling writing career and his life are in a state of constant flux. He works a dead-end job and self-medicates profusely, while utilizing every spare moment to devote to his passion for writing. Enter Julius, an elderly, sage-like, street-wandering black man. These two men strike up a unique relationship, as Jackson quickly discovers that Julius also has a penchant for words. While Jackson's relationship with Terra and career hang by a thin thread, Julius leads him on a series of adventures that will prove to save Jackson's life. A novel as gritty and vibrant as the city of Los Angeles; it is a story of self-destructiveness, and longing for inner peace. Take the journey alongside Jackson on his quest toward redemption.
Preston Smith had asked me to read and review Glazed City Eyes. I had agreed as the blurb caught my attention. I will say that this book had me thinking about several things in my own life. It does bring up a few good points about how much technology has taken control over our lives and we need to fight to stay present in our lives.
I will say that I do have two minds on this work. First off I did not like the drug use in the book. I just don't like to read or be apart of that culture. HOWEVER I do realize that it plays an important role, because it shows how much Jackson has sank and how much he overcame at the end. It also gave him a a false sense of being in the moment.
The poetry throughout was interesting. I didn't care much for the ones at the beginning, it was very harsh and didn't flow as nicely as the poetry I typically enjoy. As Jackson found inner peace thepoetry became much better. Again I realize that it played an important role to the plot.
I did feel the story took a little while to develop, however I really enjoyed when Julius enters the story. I did think it ended well and overall the thought provoking helped me to enjoy it and over look some of the parts I didn't care for. This is the first novel that is between two categories. It is better than Fair, but not quite Excellent for me.