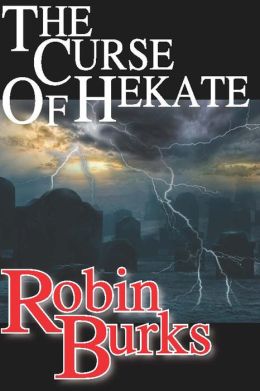 From
B&N
:
Alex Grosjean is back! The Curse of Hekate picks up where Zeus, Inc. left off. A tall, dark and pointy-toothed stranger shows up at Alex's door and begs her for help. It's up to Alex to help him find the entity responsible for his fate, as well as protect the world from a fatal plague. Can Alex stop both, or is the world doomed?
After reading
Zeus, Inc.
Burks had asked me to review the next in the series. I agreed since I had enjoyed a futuristic view of Greek Mythology. While it has taken me a while to read it, it was not due to the pace of the book, but more of lack of time. I definitely enjoyed the book.
Alex is still the tough as nails detective and has all of her moxy. She definitely is not enjoying being at the call of the Gods. However she does want to stop the evil she is "asked" to stop. The struggle she has with trying to have a normal life versus dealing with the Greek Gods and monsters is more apparent. In fact it does create a great sentence which I won't divulge since it contains a spoiler, but I definitely got a chuckle out of it.
The story line continues straight from the first book. If you read
Zeus, Inc.
you will be grateful that Burks didn't totally start from later on. However I will say that
The Curse Of Hekate
ends very similarly...which is good to know there should be another book out, and bad because of stupid cliff hangers(the bane of my existence!!!) One thing to note is again this is not necessarily for young adults. There is some foul language, which can be deterring even to adults. I didn't think it was too much, however it was definitely notable.
Burks has done a great job with this series and I can't wait to see when the next one will come out!