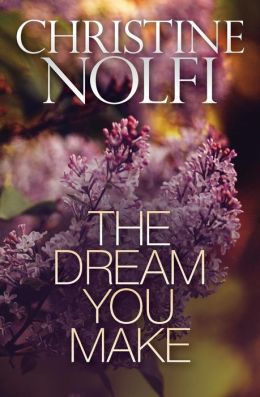 From
B&N
:
Each day Annie McDaniel's dream of a brighter future slips further away.
After her nephew's world is destroyed in a burst of gunfire, Annie receives temporary custody of five-year-old Dillon. Now the greenhouse she managed with her late father isn't bringing in enough money. If she doesn't get her financial house in order, a judge will allow a couple in Baltimore to adopt Dillon-and remove him from her life forever.
When Annie takes a second job at Rowe Marketing, the instant attraction she shares with Michael Rowe is a circumstance she can't risk. But should she walk away from a love sure to last a lifetime?
Fresh, heartwarming and inspiring, The Dream You Make reveals that hope always carries the promise of new beginnings.
If you haven't figured it out quite yet I am a fan of Christine Nolfi's works! Each book I have read is so wonderfully written, that I just can't pass up when another one comes along. So of course when I seen
The Dream You Make
, I wanted to read it. I had to wait, although when a great deal came along for the ebook, I bought it to hold onto when I could.
Nolfi didn't disappoint! The characters you will love from Michael, Annie, Dillon, and Miriam. You laugh, you cry, and root for them. Even at some points you are surprised by them. You do find out the back stories slowly but this adds to the charm in the book.
I will say this is more of an adult book than a young adult book...but please do not think of it as smut. I just feel that there are a few parts that young adults do not need to be exposed to until they are mature enough...however those parts did not deter my enjoyment to the book nor do I think the book would be better without them. It shows a realistic view of the world.
The pace of the book was great and the plot line flowed well. While there were chapters told through other perspectives, Nolfi did an excellent job of showing who was narrating pretty quickly to avoid confusion.
You shouldn't be surprised by the rating because of course I loved this book too!